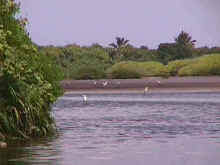 Some of the larger islands have small lakes, surrounded by mangroves. A typical lake is the one in Hithadhoo, Addu Atoll, seen in the picture above. Land based ecosystems like this are rare in the Maldives, and the government gives special priority to preserve them. Studies are ongoing with Ausaid assistance to protect this particular lake.

The birds that you see in the picture are themselves becoming an increasingly rare site in the Maldives. The government has taken several steps to reverse this trend. Under a notification issued in June 1996, it protected the White Tern (Gygis alba monte), and prohibited its capture, sale and captivity. On the occasion of the Environment Day on 30 June 1999, President Maumoon Abdul Gayoom announced his government's intention to protect 22 more species of birds. These have now been brought under the purview of Environment Protection and Preservation Act (4/93).

Rising Sea Level Forcing Evacuation of Island Country
"........For the leaders of island countries, this is not a new issue. In October 1987, Maumoon Abdul Gayoom, President of the Maldives, noted in an impassioned address to the United Nations General Assembly that his country was threatened by rising sea level. In his words, his country of 311,000 was "an endangered nation." With most of its 1,196 tiny islands barely 2 meters above sea level, the Maldives' survival would be in jeopardy with even a 1-meter rise in sea level in the event of a storm surge........"
[click heading for details]
email: maldives5@lycos.com