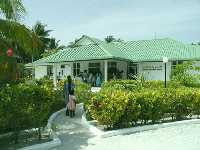 Kuludhuffushi Regional Hospital: The gateway to modern health for the residents of the three Northern atolls
When health assistant Hussein Ali came out of the small room that served as the health centre, his lowered eyes told everyone that the news was bad. In a halting voice he started explaining.

"We really donít have much we can do here for a difficult pregnancy. I couldnít save the baby. But you are lucky; at least Fathmath would live. But she may have a problem with leaking urine. Perhaps that could be treated abroad... Till she is fit for the sea journey to Male, I will treat her with whatever medicines available here... Unfortunately we havenít had any supplies for sometime...."
Ibrahim Fulhu sat silent staring at the barren laami tree.....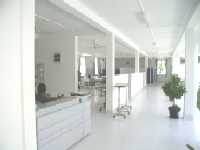 The hospital prides itself on being spotlessly clean


22 years and thousands of rupees worth of medications later, Fathmath has still not recovered fully from the trauma she received that day. But the next year they got a healthy bay girl, who has now grown into a woman and who is now in the operation theatre.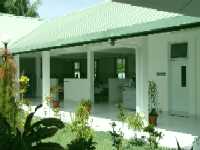 Patients in the ward have a pleasant view that helps brighten their mood

When the trained Foolhuma in Baarah told Hafeeza she should go to the regional hospital for delivery, Ibrahim Fulhu felt as if someone was trying to rewind his past and replay it again. But as soon as his dhoni weighed anchor at Kuludhuffushi jetty he felt his unease disappearing, and as his daughter was sped off towards the Regional Hospital in an ambulance, he knew things would be different this time.

Looking at the white and green building of Kulhuduffushi Regional Hospital, Ibrahim Fulhu could feel the rapid pace of health development in these islands. Unlike the situation on that sultry afternoon 22 years ago, today he is in a 50-bed hospital, where specialists in gynaecology and surgery are available full time. Automated laboratory tests, X-rays and ultrasound support them. Medicines are available just across the road in four or five pharmacies.

22 years ago this type of facilities were not available even in Male, Ibrahim Fulhu thought.