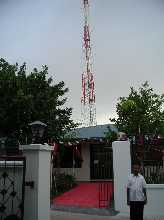 Communication towers like this are a common sight in the islands these days.
This was a far cry from the situation just 40 years ago. Before 1960, the only way to send a message to an island was to send a letter on a sailing boat and hope one would be lucky if the letter reached in a month. Things improved slightly in the 60s, when RT sets were installed in the atoll offices. Soon walkie talkies were given to island chiefs.
Walkie talkies themselves were a revolution of sorts. Katheebs made a pretty scene in the island beaches sporting strange looking devices and saying "Hello, hello .....over". For many islanders these were the first English words they would hear. It spawned a whole new culture in the islands, with children making toy walkie talkies. While walkie talkies were a definite improvement in communication it made life very difficult for the katheebs. They had to go to the beach at the appointed times to contact the atoll office, come rain or sun. Many katheebs build huts on the beach called "walkie talkie houses".
We have come a long way since then. The Maldives telecom company Dhiraagu has been improving its services and making them more affordable in recent years. Thus mobile phone and Internet services have come down considerably in recent years. However, the small size of the market and the fragmented nature of the country is a severe constraint on such efforts.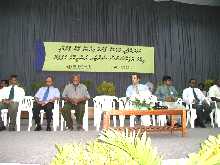 In September 2001 Dhiraagu marked the inauguration of house to house telephones in Kulhuduffushi island.
The government of Maldives realizes that the way forward is through the information superhighway. In the last few years it has taken some very constructive steps to foster information technology in the country. Reducing the import duty on computers is one such step. More recently the government has announced its intention to provide low priced Internet connections to all schools in the country during the next academic year.